Edwin Haronian M.D.
Edwin Haronian, M.D.
Board Certified Orthopedic Surgeon
After he completed his Spine Surgery Fellowship at the world renowned Kerlan-Jobe Orthopedic Clinic and his residency at State University of New York at Brooklyn, Dr. Haronian went into private practice. He has been in the field of Orthopedic Surgery for more than 15 years.
Dr. Haronian emphasizes individualized care for his patients, providing a full range of orthopedic treatment. This includes advanced techniques in surgery as well as non-surgical treatment.
He utilizes the most advanced, minimally invasive procedures possible, which often results in faster recovery time and a minimum of pain.
Whenever possible, surgery is avoided. However, when non-surgical treatment is no longer helpful, surgery is performed to maximize benefit. The wide variety of surgical procedures Dr. Haronian performs includes everything from routine micro-discectomy to more elaborate revision spinal procedures, which may involve the use of metallic implants.
Dr. Haronian penned the book "Back Surgery: Is It Right For You?" In it, he examines the anatomy of the back and discusses common conditions that result in pain. He presents an in-depth, easily understandable analysis of the most effective treatment available, and also includes a program designed to help patients prevent future back problems.
The excellent care offered at Synapse Medical Group is meticulously and compassionately inspired by Dr. Haronian's directorship.
Spondyloisthesis Patient Walks 2 Weeks After Spine Surgery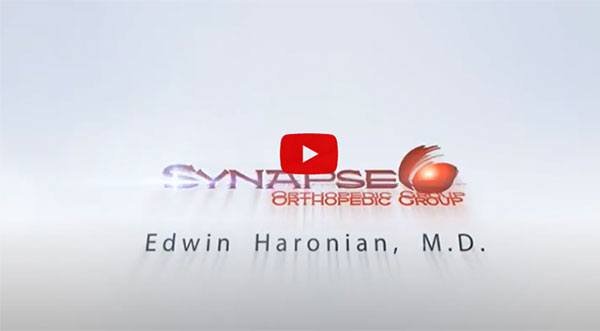 Cervical Discectomy and Fusion by Edwin Haronian MD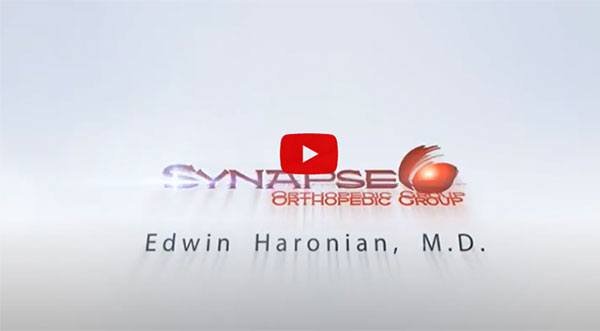 Transforaminal lumbar interbody fusion (TLIF) by Edwin Haronian MD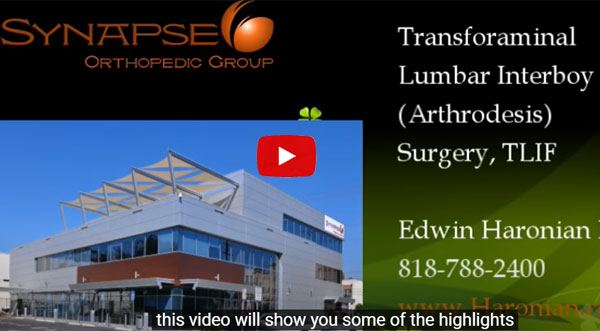 Edwin Haronian MD Patient Testimonial 2015 Recap
---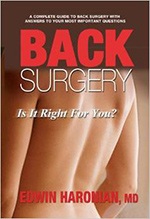 Back Surgery: Is It Right For You?